Deep Tissue Massage
Massage can be applied to parts of the body or to the whole body to heal injury, relieve psychological stress, manage pain and improve circulation in addition to being used for its physical and psychological benefits. Deep pressures, trigger pointing and stretching techniques are used to focus on specific areas of tension. This will boost circulation in congested areas, break down fibrous knots, promote healing of injuries, reduce pain, and assist in osteopathic care.
Conditions that respond well to this type of massage include: Headaches, Back and neck pain, Sciatica, Sport injuries, Overuse injuries (RSI). This massage is also excellent for releasing general tightness in the neck and shoulders, found commonly in people with stressful jobs. After treatment your neck and shoulders feel lighter and more relaxed.
Massage has many benefits, including:
Ease muscle tension and reduce stiffness and pain
Lymph drainage, helping the body to release toxins
Boosts the immune system
Increases the flow of blood thereby nourishing the cells
Aids flexibility
Reduces stress, promoting a deep sense of well being.
Fees for Deep Tissue Massage Treatment
Initial Consultation (approx 90 mins) £70.00
Follow up treatments (approx 60 mins) £50.00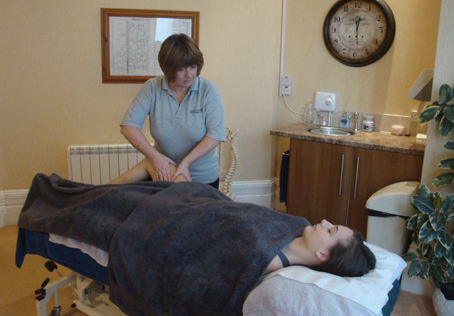 Glenda Thomas MICHT FHT
Glenda has worked at The Drive for over 3 years having graduated from Brighton University with a Distinction in HND Complementary Healthcare. This included Advanced Massage, Reflexology, Aromatherapy and Anatomy & Physiology to a higher level as required by the NHS. Glenda has taken further courses in Advanced Massage. Glenda is a member of the International Council of Holistic Therapists (MICHT), a member of the society of the Federation of Holistic Therapists (FHT) and is bound by their codes of ethics and code of practice. The FHT is the largest professional association for therapists in the UK, a non-profit making organisation that seeks to represent Member Therapists at a national level.
Call Glenda now on 07889 401049