TESTIMONIALS
I can not speak highly enough about The Drive Osteopaths, I have been seeing Jeremy since 2005 for maintenance to my back as I am a Dental professional and I gained total confidence and fitness to work up to 2010 when I had a very serious accident in which I broke my neck in multiple places ,following intensive hospital care Jeremy Buck has done a truly miraculous job due to professional excellence and timeless patience , in fact it was Jeremy alone who spotted the fractures where Doctors had failed to diagnose .I owe everything to The Drive Osteopaths staff but in particular Jeremy.I am now back at work and playing regular tennis, there certainly was a time I never thought this would be possible. I thank you all at The Drive Osteopaths from the bottom of my heart.
Georgina, Storrington
"Jeremy is an extraordinarily gifted osteopath. I have been to see him over many years for a variety of problems – RSI (repetitive strain injury), trapped nerve, headaches, muscle tension, neck pain, pulled ligaments – and he has brought instant relief in each case. . When I first went to his surgery, I had had back pain for a long time, but since going preventatively about three times a year, this has never recurred."
Angela, Lewes
I have found Jeremy Buck to be an outstanding osteopath whose treatment of my neck and jaw in the context of tension/vertigo/pain – which also impacts my shoulders and back – has given me a quality of life significantly above that which I had before treatment. He knows what is wrong, and works to put it right. He gives advice on how to help my condition between sessions, to shorten recovery time. Although it is Jeremy doing the work during sessions, I always feel that I am part of a team and I think it feels that way because he really listens, is committed to making you better, and helps you to be part of your own recovery. A very positive way to get better. The success of the treatment I have received has had a really positive impact on my life. If you are searching for an excellent Osteopath, I would highly recommend Jeremy Buck.
Stephanie
I have been seeing Jeremy Buck for 10 years for a chronic back problem and will no doubt be seeing him for next ten as well. He is an excellent Osteopath whose professionalism and care has not only helped me through some specific back problems but also really helped my general health and fitness. I have recommended Jeremy to many friends over the years and will continue to do so.
Nigel
I have known Jeremy for the last ten years, having been recommended to him by another health professional for a long standing back problem. He is a highly skilled and empathetic practitioner whose treatments have really improved my quality of life. My elderly mother has also benefited greatly from his treatments and I would not hesitate to recommend him.
DK, Eastbourne
18 years ago I painfully dislocated an ankle while also breaking it in 3 places and the doctors told me I was unlikely ever to walk again without crutches. But, following a good deal of treatment by Jeremy, this was proved to be incorrect and I can still walk normally. Over the years since then he has treated me for various problems including I.B.S., headaches and damage to my ribs and side following a car smash. So, after many years, I would definitely recommend Jeremy for his skill and kindness and (happily for me) his successes.
Margaret, Chichester
I am very grateful to Gemma for providing me with osteopathy throughout lockdown. I had a bicycle accident at the end of November 2019 when I broke my shoulder. At A&E my dislocated shoulder, humerus (upper arm bone) was put back in. One week after attending A&E, it was discovered I had broken my collar bone badly. Orthopaedics suggested an operation to remove part of my collar bone and insert pins and plates. The alternative treatment offered was for me to return to the hospital six weeks later. When I returned to hospital, an x-ray of my neck showed slight fractures to two bones in my neck. I started to have "trigger fingers" at this stage where I was unable to straighten my fingers.
Lockdown started at the same time as I first came to The Drive Osteopaths. At this point I was in a great deal of pain, frequently taking codeine, particularly at night. I used a sling and a walking stick. My shoulder was painful and pulled forwards, my shoulder blade was turned out, my arm did not lay flat when I lay down and my fingers, particularly my index finger was stuck in a bent position. I could only raise my arm only slightly, using my other hand to raise it.
Hospital orthopaedic appointments in March, May, July were cancelled due to covid. I had an MRI in August, but the telephone orthopaedic appointment was rearranged for 10 weeks later as the MRI report was unavailable so I am still waiting. I had telephone hospital physiotherapy appointments which were unhelpful, video appointments were more helpful and I have now had two face to face physio appointments.
At the time I first met Gemma, I did not have face to face physiotherapy for four months. Gemma provided information, advice, therapeutic massage and manipulation which reduced my pain levels and enabled me to regain movement in my shoulder, arm, neck and hand. She detected the locations of the issues, moving and stretching my arm. It felt like the whole of my painful areas were being taken into account, whereas the orthopaedics seemed to consider just the bones and physio, just the muscles. I still have pain and limited use of my right arm and hand, but I fear that without Gemma's treatment, I would have had extremely limited use of my right arm and a paralysed hand. During the course of my treatment, I have also had back problems on two occasions which have also been treated by Gemma, relieving the pain and I recovered quite quickly.
HT, Brighton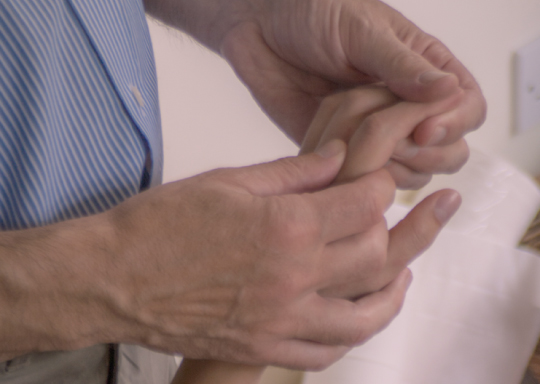 I first went to see Jeremy for investigation of a persistent and pervasive ache on my right side. It was impossible for me to accurately pin down where it was coming from – only that it was deep and sometimes felt in my hip or buttock, or down my right leg. It had troubled me for decades (I'm a woman in my 60s) and though I'd tolerated/ignored it for years, it seemed to be getting worse. At the initial consultation Jeremy was able to locate exactly the source, a very old and deep wound that had not been attended to at the time, and to devise a treatment plan. With steady work, and monitoring, and clear explanation as to what was happening during the course of the treatment, and why it would still feel very painful at times before reaching a turning point, there has been excellent progress. Within the space of six months I've now reached the stage of being almost pain-free – a good result for something that goes back probably at least 30 years ago! I have never had osteopathy treatment before and with something as vague as what I was presenting with, I had no faith, frankly, that conventional services offered by the NHS would be helpful to me. I found Jeremy through a friend's recommendation, and I unreservedly endorse that recommendation.
Jean, Brighton
I started seeing Jeremy due to having lower back pain which restricted everyday movement and greatly impacted on the quality of my life. Jeremy was able to assess the problems and with regular sessions, able to ease and correct them. He works in a caring and professional manner, always explaining what he is doing and how it will improve the situation, which provided me with confidence and hope after each session. Over time, my back pain has infinitely improved, and my quality of life is so much better. I am extremely grateful to the osteopathic healing abilities of Jeremy and would not hesitate in recommending him to anyone.
Jackie, Brighton
I came to see Emilie Roddie with constant back pain and neck pain. She diagnosed the issues immediately and over the course of a few session she undid months of discomfort. Emilie is extremely knowledgeable, has great instincts, and also deceptively strong! I have tried other osteopaths, but I have the greatest confidence in Emilie as she really does get to the root of the problem, and effectively treats the underlying issues to get results.
DL, Brighton